This is an exciting and innovative course that will develop a range of cyber security, networking and system support skills. Subjects studied include computer systems, IT troubleshooting and repairs, computer maintenance, project, communication and employability skills, system analysis and design and computer technology, most of which will develop awareness of cyber security in today's world. This qualification is equivalent to 1.5 'A' Levels.
The course runs for one year initially. Successful completion leads to the Extended Diploma in System Networking & Support for a second year which is equivalent to three 'A' Levels. This course is suitable for those who want to go to University and eventually enter a career in the IT industry including first line support and troubleshooting or undertake an apprenticeship.
What makes Cybersecurity, Network Systems and Support at HRC Special?
Expert knowledge and skills in Cybersecurity and Big Data
Wide-ranging industry skills
High progression rates to higher education
Top of the range equipment and facilities
HRC has the highest overall pass rate in 2017/18 for all local FE colleges
What do our students say?
"the course is great, we get help from the tutor and the teaching is good"
"my experience so far at college has been great"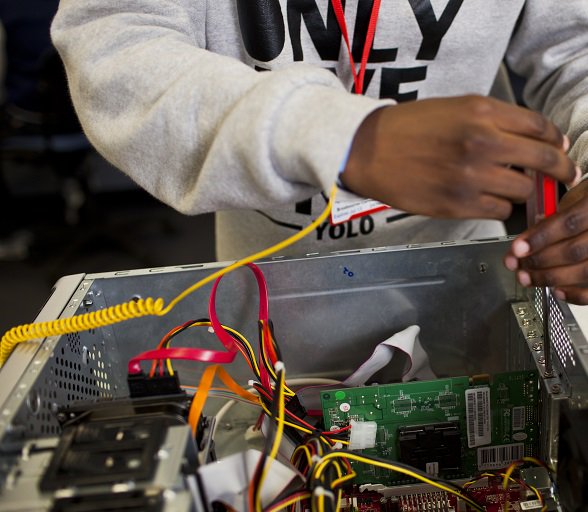 Career Destinations
We are proud that our students go onto careers including:
Help Desk Technician
First or Second Line Support
IT Infrastructure Technician
Network Engineer
Network Administrator
Systems Engineer
What can I do next?
Progress on to University to study a games or IT degree, although the points achieved will open the doors to a variety of degree topics. The qualification allows you to study any subject
Enter employment in the IT industry
An apprenticeship in the IT industry
What will I be doing?
Communication and employability skills
Computer systems
Information systems
Impact of IT on organisations
Communication technology
IT troubleshooting and repairs
HCI
Databases
CCNA1/2
Added Extras
A trip will be organised during the year. Typically this been to gaming conventions/exhibitions.
One week's work experience is an integral element of the programme and you will be required to find a suitable placement.
Independent study is mandatory and topics will be provided by your tutor.
How will I be assessed?
All units are assessed by assignments set by the College. These are graded according to exam-board criteria and are verified by the Exam Board. In the case of CCNA there will be a series of mini exams followed by a summative online exam.
Entry requirements?
200 GCSE entry points with English and/or maths at Grade 4/C/Level 2 equivalent or above
BTEC Level 2 Diploma IT (or equivalent) at Silver/Merit or above
You will need to demonstrate a keen interest in the computer industry and be well motivated and enthusiastic.
If you would like help understanding our entry requirements, give our Information Team a call on 01992 411411
What do I need to bring?
A notepad and pen, memory stick, costs for the extended trips and a positive attitude to studying.
If you think you would benefit from financial support we have bursary options available for those who meet the criteria. Please note, this funding is not guaranteed and is subject to availability at the time of application.
If you would like financial support, contact our Information Team on 01992 411411 or This email address is being protected from spambots. You need JavaScript enabled to view it..
Fee Information
Free to those under 19 on 31 August 2019.
If you are 19 or over on 31 August 2019, have been a permanent resident in the EU for the last 3 years and are a fee-paying new entrant, you will pay approximately £2000 tuition fee for a Level 2 qualification and approximately £5500 for a Level 3 qualification (these were the fees for 2018/19 and could be subject to change for 2019/20).
Fee-paying students continuing on the same course for a second year will be charged £2000 tuition fee for a Level 2 qualification and approximately £8500 for a Level 3 qualification (these were the fees for 2018/19 and could be subject to change for 2019/20).
If you are aged 19-23 you may also be entitled to free training if the course you choose is your first full Level 2 or Level 3 qualification.
For these costs please contact our Information Centre on 01992 411411 This email address is being protected from spambots. You need JavaScript enabled to view it..
These fees are indicative of the 2019-20 costs and may be subject to change
Additional Costs
You will also be required to pay a trip/activity fee of approximately £50 payable on enrolment.